Miami Beach Deco may be purchased from Amazon by clicking here.
Prints from Miami Beach Deco may be purchased here.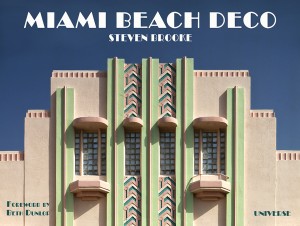 FROM RIZZOLI:  Steven Brooke, whose dazzling photography of Miami Beach's Art Deco District once helped spur the area's preservation, now captures the incredible architectural restoration of this glamorous international playground. During the 1930s, Miami Beach emerged as an epicenter of Art Deco architecture.  Against the azure sky gleamed buildings that boasted voluptuous curves, nautical elements, Jazz Age ornamentation, and seductive
http://healthsavy.com/product/provigil/
neon.  After the area fell into decline in the 1970s and '80s, Steven Brooke and others successfully campaigned to protect the Art Deco District's architectural treasures from the wrecking ball.  Now, with the district's buildings finally restored to their eye-popping glory, Brooke offers Miami- and Art Deco–lovers the most up-to-date celebration of the inimitable architecture that has made the city a style magnet for artists, designers, and travelers from around the globe.